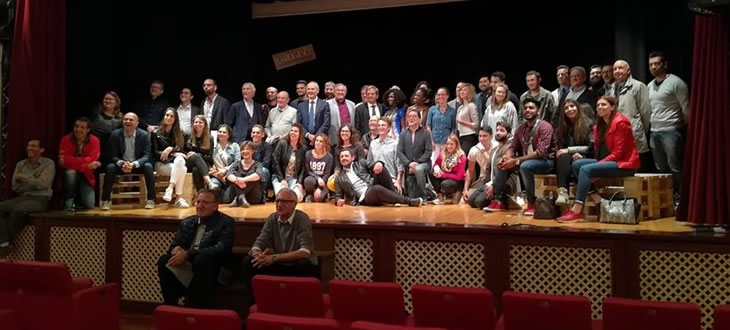 III International Student Competition on Place Branding and Mediterranean Diet
A student competition is an event between students or teams of students within a classroom, or across different schools and across geographical regions which compete for a prize.
Students are the protagonists and education, enjoyment, creativity and skills playing a fundamental role.
Where?
Ancel Keys, an American psychologist and Flaminio Fidanza, an Italian food scientist and university professor from Le Marche, were the first scholars studying the "Mediterranean Diet".
Through the Seven Country Study, they certified the area of Fermo, specifically Montegiorgio, as the reference place about the Mediterranean Diet, added to the UNESCO Intangible Heritage List.
The study lasted for about 32 years and attested the "excellence" of Montegiorgio's food and lifestyle to improve health and longevity.
Moderation, frugal meals (fruit from the earth), seasonality, conviviality, celebration, tradition and value of women: all those habits made the difference. Today the town of Montegiorgio boasts the "Piceno Lab of the Mediterranean Diet", that has the mission to relaunch the Piceno area and Marche's territory.
Why?
In the last few years, the University of Macerata has carried out several programmes and projects to support local development. One of these, has been the Urbact "Gastronomic Cities" project: http://urbact.eu/gastronomic-cities.
During the project, through the involvement of students, international scholars and local stakeholders, a local action plan for the promotion and development of this rural area has been created.
What? and Who?
Now, the most committed and motivated group of stakeholders, the Piceno Lab on Mediterranean Diet, is willing to carry on this collaboration, by hosting an international student competition to:
allow a real-time advertising and promotion of the territory (through the use of ICT tools),
let young people discover the enchantment of the region through experiential learning,
test a new way of collaboration among stakeholders, promoting bottom-up private and public partnerships.
To discover the importance of the cultural value of Mediterranean Diet for this region, please refer to this article: https://discovermarche.wordpress.com/2015/01/22/the-mediterranean-diet-an-intangible-heritage-of-unesco-humanity/.
When?
The Student Competition will take place from May 1 (welcome dinner) to May 6
Students will have the opportunity to enjoy an amazing experience: courses and experiential learning activities will be held in different locations (historical theatres and buildings, wineries, agritourism facilities, etc…) surrounding Fermo and Macerata provinces in Marche Region.
Objectives
The objectives for international students who will participate to the Student Competition will be:
Discovering linkages between gastronomy, events and place branding,
Understanding the potential of food and gastronomy for sustainable development,
Developing skills for destination management challenges,
Understanding the potential of ICT for place branding activities,
Discovering Italian culture, lifestyle and gastronomy.
How does it work
Language: English
Blended learning
Seminars led by academics (theory),
Field trips in wineries and farms in Fermo area,
Educational tasting sessions and show cooking,
Meetings and workshops with local public and private stakeholders,
Folkloristic dinners and events in historical towns and villages.
Main contents
Web based platform for digital story telling and blogging for every student,
Hootsuite introduction and platform management for multi channel social management (hootsuite.com),
Social analysis and metrics for #destinazionemarche, #mediterraneandiet and #iscfermo,
Special social track for short videos and photo slideshows,
On line form for final Place Branding project submission,
Prizes for: best blogger, best story teller, best social impact&performances.